Live Lighter, Love Better
Twelve Biblical Decisions for a Meaningful Life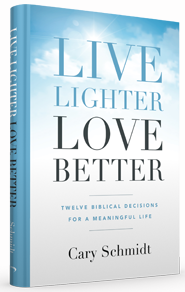 Live Lighter, Love Better is a heart-searching, deep-thinking call to courageous decision-making. The principles of God's Word as unpacked in this book will empower you to live the abundant life that Jesus promised—a lighter life that is grounded in loving relationships and healthy spiritual and personal balance. Each chapter examines the life-long regrets of Solomon, as recorded in the book of Ecclesiastes. One principle at a time, allow God's Word to pull back the curtain of your heart and expose your deepest idols. Allow its liberating truth to loosen the stranglehold that those idols place upon your heart as you begin the journey back to biblical, healthy balance and joy. Click here to find out more information about Live Lighter, Love Better.
Where Only God Could Lead
The Life Story of Dr. Don Sisk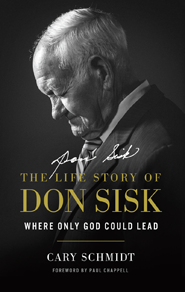 The life story of Dr. Don Sisk reads something like a novel with surprises at every turn. In truth, it is simply the story of walking by faith. It is a record of the faithfulness of God in a surrendered life. Even in hindsight, it's difficult to wrap your mind around the magnitude of what God has allowed Don Sisk to accomplish in six decades of ministry. From a tiny, rural town to a worldwide ministry with eternal impact, the Lord has led Don and Virginia Sisk step by step on paths of faith.
These pages speak to the divine work of God—in a life and through a life. They speak to the providence of God to lead a man from the mountains of Kentucky, to the orient, to travel the globe, and to the backside of the desert—and to bless him and make him a blessing every step of the way. They speak to the ways of God in blessing a husband and a wife who are faithful to each other through over sixty years of marriage, faithful to their family, and faithful to their God. In short, these pages tell a record of God's grace developed in and channeled through a man yielded to follow wherever God leads.  Click here to find out more information about Where Only God Could Lead.
Real Christianity
Embrace the Grace, Endure the Struggle, Enjoy the Relationship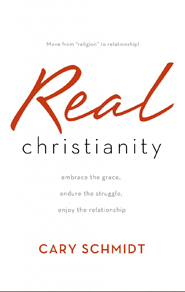 Take a fresh look at the real Jesus, the real gospel, real grace, and real renewal that comes through a personal relationship with Jesus Christ. This book is written for new Christians or discouraged Christians. It will help you escape a performance-based system and embrace a biblical, grace-based relationship with Jesus that will truly change your heart.  Click here to find out more information about Real Christianity.
Passionate Parenting
Enjoying the Journey of Parenting Teens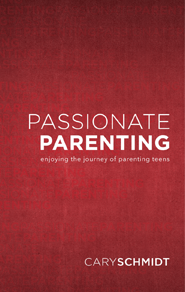 Passionate Parenting is written to equip parents to truly enjoy the journey of parenting—especially as their children become teenagers. Each chapter will unfold biblical principles that will provide a solid framework for a loving, growing family and a gospel-centered portrait of authority and influence! Click here to find out more information about Passionate Parenting.
Off Script
What to Do When God Rewrites Your Life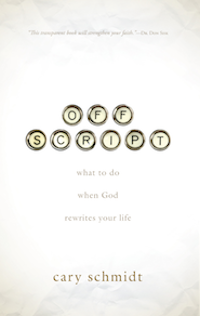 This book was written during a recent battle with cancer and highlights ten decisions that will transform our perspective in the midst of trials. Each decision is taken from a key passage of scripture that will strengthen any Christian during an "off script" season of life! Click here to find out more information about Off Script.
Just Friends
Guarding Your Heart for a Wonderful Someday
This book co-written with Pastor Mike Ray presents a biblical view of early attraction and guy/girl relationships. Parents, youth workers, and young adults alike will be challenged to apply biblical principles in establishing healthy, pure, protected, and Christ-honoring friendships. It is over 200 pages, paper back and contains questions for personal study/application or group discussion. For more information click here: Just Friends
Different By Design Book and Curriculum
Rediscovering that a Godly Life is Still a Good Life!
This book/personal study and the accompanying curriculum is designed to help young adults develop not only a godly heart, but a godly lifestyle to match! It exposes the myth that God doesn't care how we behave, He only cares about our heart. It calls Christians to embrace a pure heart that flows into a distinctive lifestyle.
This study has twelve chapters that each include ten practical points heavily supported by God's Word. Each chapter studies a particular aspect of Christian living that pop-culture and pop-Christianity is quickly tossing aside. The lessons are written so they can be studied in in a group setting (Sunday school, Bible study, or Christian School Bible class) or worked through as a family. Each lesson has questions for personal study and also a homework for families section that is meant to involve parents in the instructing and discovery process.
Teacher's Guide – 273 pages (paperback)
Student Guide – 158 pages (paperback)
Personal Study Book Version – soon to be released, 219 pages (paperback)
Click here for more information or to purchase Different By Design
Music Matters
Understanding and Applying the Amazing Power of Godly Music
In this thought-provoking book, you will discover a biblical and encouraging perspective on the power of music and how to use it effectively in your life. You will be challenged to consider music as more than entertainment and to make wise choices that will facilitate greater spiritual growth.
(104 pages paperback)
Click here for more information or to purchase Music Matters
Life Quest
Braving Adulthood with Biblical Passion
This paperback book is now available from Striving Together Publications in two formats—paperback and MP3 CD. This book addresses the challenges of embracing adult life in a culture that is trying to keep us immature and irresponsible. Part one deals with the reasons that young adults in their 20's and 30's are buying the lie that they can stay childish. Part two deals with the wonderful rewards of moving forward in life—the big blessings that God has in store for those who gladly "grow up." Part three deals with how to accept the challenges of adult life with true, biblical passion.
This book was a couple years in the research and development and it challenges the reader to move forward in life for God. You can find out more about it or purchase it by clicking here:
Life Quest – Braving Adulthood with Biblical Passion
*also available as a curriculum for Sr. High and Single Adult ministries.
Done
What Most Religions Don't Tell You About the Bible
This 100 page paperback minibook answers life's biggest question—how can I know about eternity? More than 100,000 copies have been printed. It's been a joy to hear from people around the world who have trusted Christ after reading this little book.
This eBook is also now available in Chinese (with English parallel) and Spanish at the links below:
Purchase a hard copy or a quantity of "done."
Discover Your Destiny
Making Right Choices in a World Full of Wrong
What every young adult needs to know about making right choices in a world full of wrong! This 280 page paperback book will help any young adult or adult to discover the perfect will of God for their lives. It's written to someone at least sixteen years of age who is serious about making right choices for the future.
Purchase or Find out More about Discover Your Destiny
*Also available as a Sr. High or College and Career Curriculum
Hook Line and Sinker
How the Enemy is Dividing and Destroying the Christian Family
This 280 page paperback book exposes Satan's attacks on every Christian home and provides biblical principles for both parents and teens. This material was really the product of hundreds of hours of counseling—seeing Satan attack families in exactly the same ways every time. It is now available in a 21 week curriculum that can be taught to parents or teens.
Purchase or find out more about Hook Line Sinker
*Also available as a 21 lesson teen and parent curriculum
Your Pastor and You
"Understanding the Relationship Between a Christian and His Pastor"
Written with Dr. Paul Chappell, this 48 page mini paperback book highlights the vital and biblical role of a pastor in the life of every Christian, and provides biblical insight for keeping that relationship strong and healthy.